Emma Hayes says it is "ludicrous" and "embarrassing" that goal-line technology and VAR are not in the women's game after Chelsea's Guro Reiten was denied a goal against Tottenham after the ball clearly crossed the line.
Reiten bundled the ball over the line in the 2-1 victory for the WSL champions but the on-pitch officials did not give the goal. The Chelsea attacker even wheeled away to celebrate but was left bemused when it was ruled it had not gone in.
Thankfully for Chelsea, Lauren James scored seconds later as Niamh Charles, who collected a pass from the celebrating Reiten, crossed for her to tap home.
"I want to know why are we not investing in it [technology]?" Hayes told Sky Sports after the game. "That has to be put to the board who make the decisions. It's embarrassing.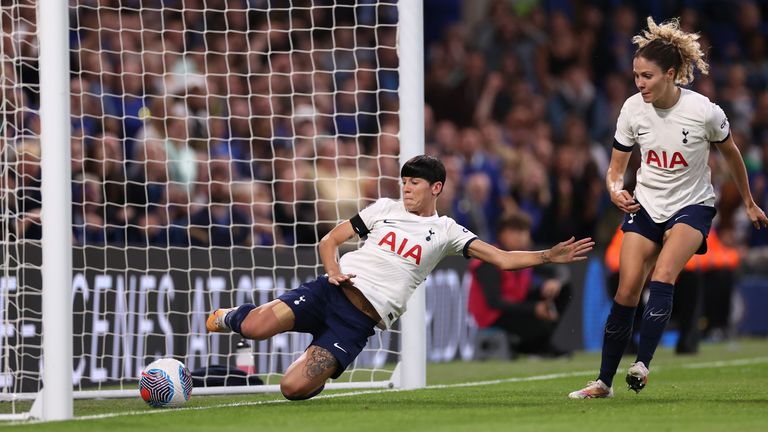 "Everyone knew in the stadium it had gone in. Fair enough there could be a human error but that's what VAR is for, but I probably shouldn't say that after Tottenham vs Liverpool yesterday!
"If this is the Premier League of women's football, the top level, we've already proven we can have VAR-lite, we had it at Kingsmeadow in a pre-season game.
"We can talk about investing in youth football but we need [goal-line technology] – it's ludicrous. We had it at the World Cup. We had it in the FA Cup final but not the semi-finals."
Lauren James tucks home a great cross, giving Chelsea a 2-0 lead over Tottenham at Stamford Bridge

Hayes later said in her press conference: "I said to the fourth official, 'I bet you're grateful that [James goal] went in'. Because everyone in the stadium saw it crossed the line.
"There's human error, VAR is not foolproof, but not having goal-line technology in a stadium that already has it is madness. But then, at the same time, next week we go to a stadium that doesn't have it.
"We have to have some consistency with it. I don't understand why we don't have VAR-lite across the league. We implemented it at Kingsmeadow in pre-season so there aren't any excuses."
What the pundits said…
Karen Carney to Sky Sports: "We've been speaking for too long about technology. We're at the main stadium, brilliant, but that goal could be the difference – it's a goal. The title could be won by two points, the relegation, the top four is marginal. I feel for managers as there is no room for error for them but why can we allow room for errors in technology?"
Izzy Christensen to Sky Sports: "The game is moving on. These decisions define games. If Chelsea hadn't scored seconds after that we'd be looking at a completely different result and then at the end of the season when we look back at things like that happening, which are preventable, then it's a big worry."
Rachel Yankey to Sky Sports: "The biggest thing we can do is keep showing it and pushing for it. Then hopefully there will be change. The football has got to such a level that we can't not notice this. It [goal-line technology] has to be there."
How to follow the WSL on Sky Sports

Friday 6th October 7:00pm


Kick off 7:30pm

Follow all the latest from the Women's Super League across SkySports.com and app, including exclusive features and interviews, plus dedicated live blog coverage and in-game clips from games live on Sky Sports.
You can also watch free match highlights from every WSL game this season on Sky Sports' digital platforms and YouTube channel, while all matches will continue to be shown on both Sky Sports Football, as well as on Sky Showcase, available in all Sky homes, even without a Sky Sports package, giving the competition greater visibility.
Alongside coverage and visibility for the league across all Sky Sports' main social media channels, the bespoke Twitter channel @SkySportsWSL will continue to be the home of all Barclays FA WSL content on Sky Sports.
The Sky Sports WSL TikTok account gives fans 360° coverage of the league and granting them exclusive access to their new favourite players. Through fun challenges and interviews, along with behind-the-scenes footage, viewers will get to know the WSL's array of personalities and see the sport from a new set of angles.
Meanwhile, fans can also keep up to date with everything on and off the pitch with the return of Three Players and a Podcast, hosted by Caroline Barker.