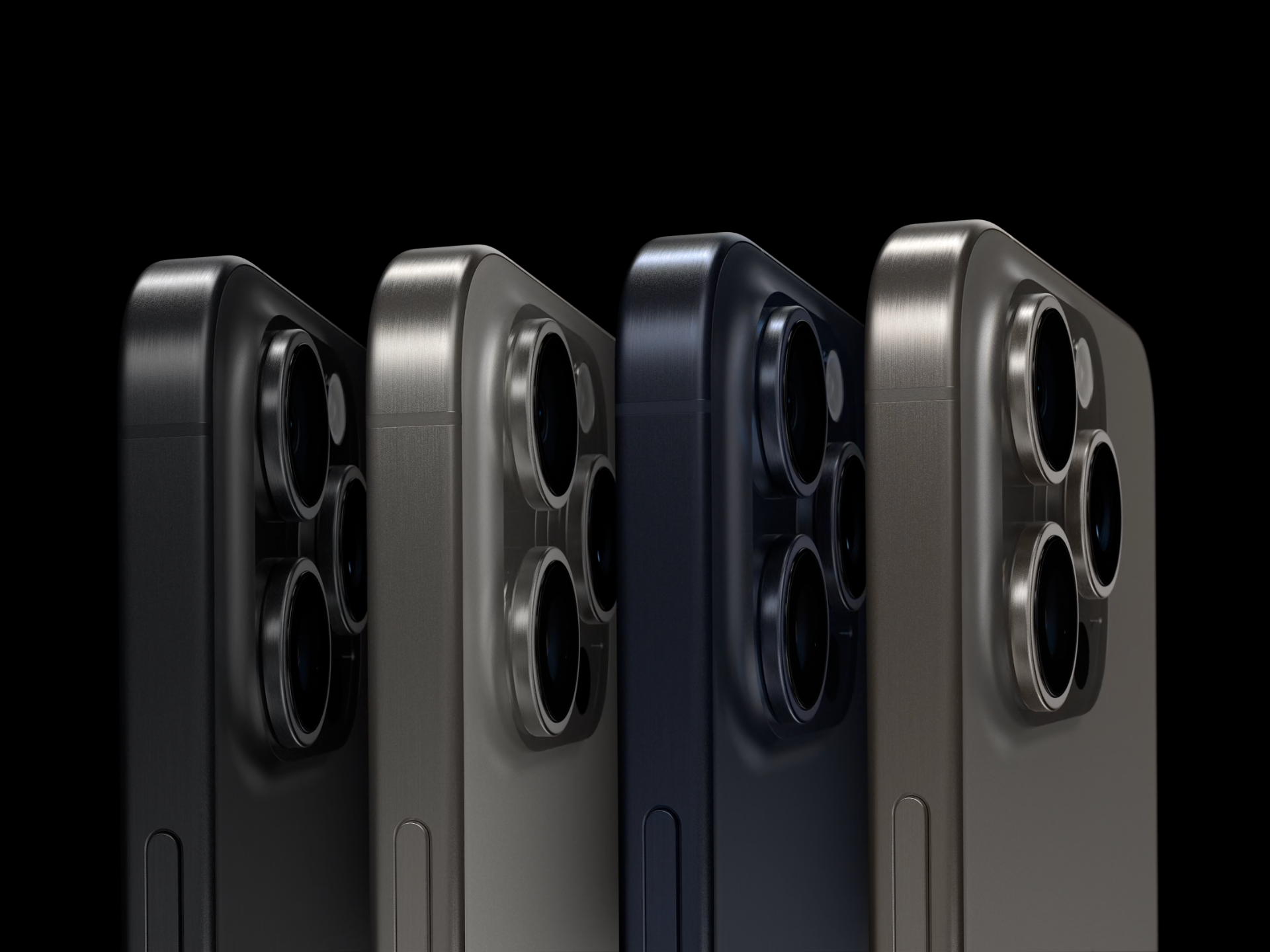 At its Wonderlust event on September 12, 2023, Apple unveiled the iPhone 15 Pro and iPhone 15 Pro Max. The launch gave rise to quite a few buzzwords, some referring to the new titanium frame and others that focused on the camera improvements.
Here, we dive into everything that's new with the camera hardware on the iPhone 15 Pro and iPhone 15 Pro Max and what you can expect to experience with these devices.
1. Nano-scale coating on all lenses
Lens flare from a light source has troubled smartphone cameras across almost every brand, often making captured images look more washed out and impacting the overall feel. To deal with this, Apple is debuting a new coating on the iPhone 15 Pro and iPhone 15 Pro Max cameras that it calls a "nano-scale" layer.
The results we've seen floating around the internet, while not eliminating the green spots around light sources, show significantly reduced streaks of light that you might have seen in photos previously.
2. Next-generation Portrait Mode with more control
Image Credit: Apple
The next upgrade to the iPhone camera experience is an update to Portrait Mode. The new additions will allow for better color reproduction — in low-light conditions or otherwise — and will also capture depth data automatically, provided your iPhone can understand whether a cat, dog, or human is in the frame or if you've used "Tap to Focus."
Also, once you've captured the image, you can adjust the focus point and the aperture (f-stop value, indicated f/1.x) to make it to your liking.
3. High-resolution default photos and multi-focal length system
Apple is also debuting a new high-resolution default, using the HEIF file format (pronounced "heef"), allowing users to capture 24MP photos in a file size that isn't too big. It makes for a situation where pixel-binning the 48MP images to 12MP files isn't necessary, allowing the end result to retain more detail and clarity.
Another change the iPhone 15 Pro series brings is the ability to set other focal lengths as default for the 48MP main camera, which means you can set it to capture 24mm, 28mm, or 35mm photos. In combination with the other modes and sensors available for the camera system, Apple is touting a new seven-lens system that you can play around with for capturing moments.
The seven-lens system includes:
48MP wide camera at 1x zoom (24mm) 48MP wide camera at 1.2x zoom (28mm) 48MP wide camera at 1.5x zoom (35mm) 48MP wide camera at 2x zoom (48mm) or 2x Telephoto camera 12MP ultrawide camera at 0.5x zoom (13mm) 12MP ultrawide camera for Macro mode 12MP telephoto camera 3x zoom (77mm) for iPhone 15 Pro and 5x zoom (120mm) for iPhone 15 Pro Max
4. 5x Optical Zoom Telephoto camera (iPhone 15 Pro Max only)
For the first time since the iPhone 8 and 8 Plus, Apple has introduced a significant difference in camera hardware between two models of the same series. The iPhone 15 Pro Max features an all-new telephoto lens capable of capturing images at 5x optical zoom, making it the longest-zoom lens on an iPhone.
To do this, Apple is using what it calls tetra-prism design, where the captured data is bounced off of four lenses before it reaches the sensor. The system brings a nice lens fall-off and capabilities to the iPhone camera, adding more depth and range to the imaging experience, and we can't wait to put it to the test on our units.
The device also features an improved sensor-shift stabilization system to help stabilize this new lens and deal with any shakiness that hand-held imaging can introduce. The previous generation's hardware could move from top to bottom or right to left; on the 15 Pro Max, the lens can move forward and backward, giving it a three-dimensional range.
Related: iPhone 15 Pro vs iPhone 15 Pro Max: Which one should you buy?
5. Other improvements to the iPhone camera experience
Apart from the specific upgrades we've mentioned above, there are other improvements introduced to the iPhone's camera experience. Some of these stem from the software changes, while others depend on the new A17 Pro processor and USB-C port.
Speaking of the software first, the iPhone 15 Pro and iPhone 15 Pro Max feature the Smart HDR 5 algorithm — across all cameras — which seems to have reduced the oversharpening and blown-out skies/light sources that the iPhone 14 Pro notoriously delivers in its images. Then, there's the ability to record LOG footage.
As for the hardware-based improvements, both Action Mode and low-light video are said to see improved output because of the processing prowess of the A17 Pro. And the addition of the USB-C port allows for workflows that will let creative professionals record video directly to external storage. It also enables the ability to down 4K60 ProRes footage.
Overall, the upgrades on the iPhone 15 Pro series aren't significant when compared to the iPhone 14 Pro, but if you look at the camera experience the new devices offer, there's a lot to like with the latest iPhones, especially on the iPhone 15 Pro Max with its new 5x optical zoom telephoto camera.
If you ask us, the new anti-flare lens coating and longer-range shooting will be the defining upgrades for this generation; add USB-C integration to that list if you're a professional.
iPhone 15 Pro The iPhone 15 Pro is the new Pro series flagship from Apple. It's equipped with the new Apple A17 Pro chipset and 8GB of RAM. It comes in new colors, and it has an even more powerful camera setup and a refined design. iPhone 15 Pro Max The iPhone 15 Pro Max is the latest and the greatest smartphone in Apple's lineup. The smartphone is powered by the latest Apple A17 Pro chipset, coupled with 8GB of RAM. It has a more refined Titanium chassis that makes it lighter and more comfortable, and it features a new periscope telephoto camera.
If you've decided on buying the latest Pro iPhone, check out Pocketnow's guide on where to buy your iPhone 15 Pro or iPhone 15 Pro Max to ensure you land the best deal available.