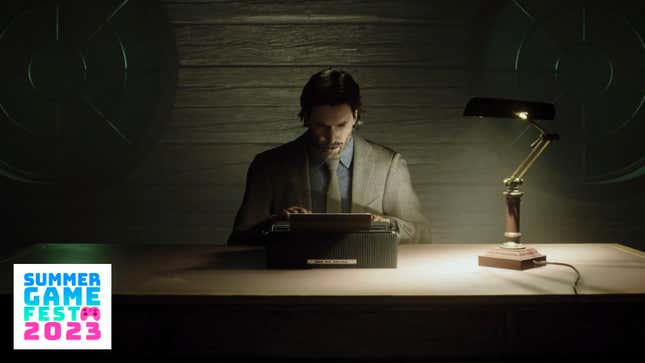 Today during Geoff Keighley's big not-E3 video game extravaganza, Summer Game Fest, we got our first real, in-depth look at Alan Wake 2, Remedy's long-awaited sequel to its moody, Pacific Northwest-set action game. And folks, it looks very, very scary!
Bayonetta 3's Family-Friendly Naive Angel Mode Would Work Better In Other, Grosser Games
It's been over a decade since the original Alan Wake game was first released on Xbox 360 in 2010. That game starred Alan Wake, a writer, jacket lover, and collector of coffee Thermoses who has to investigate his wife's disappearance in the small town of Bright Falls. It was critically acclaimed and garnered a cult following with its eerie Washington-state atmosphere and creepy story that felt very inspired by Twin Peaks. While we did get a small spin-off game in 2012—Alan Wake's American Nightmare—that wasn't the big sequel fans dreamed of.
Alan Wake 2 Official Gameplay Trailer
However, this new Summer Game Fest gameplay trailer for Alan Wake 2 shows a spookier game of just the sort that fans (like myself) have been hoping to play for nearly 13 years. The gameplay trailer focused on a new playable character, FBI agent Saga Anderson, as she explores an environment very much in keeping with the original game's PNW vibes, though it did little to shed light on the narrative mysteries at the heart of the game.
As previously announced, and as Max Payne and Alan Wake creator Sam Lake reiterated while talking to Geoff Keighley onstage, players will be able to switch between the characters, and their individual stories and levels will be intertwined.
Alan Wake 2 launches on Xbox Series X/S, PS5, and PC on October 17, 2023. There will be no physical release of Alan Wake 2.
---
Kotaku is covering everything Summer Game Fest, from the main show on Thursday to other events happening throughout the next week. Whether you're into larger-than-life triple-A games or intimate, offbeat indies, you can keep up with all things SGF here.