There are so many different things to do in Ubisoft's upcoming multiplayer game Riders Republic that it's looking like a kind of Forza Horizon for extreme sports. The gameplay trailer revealed at Ubisoft Forward shows large shared worlds full of players tearing up the slopes on mountain bikes, snowboards, skis, and even jet-powered wingsuits. Further, the company announced the new release date for Riders Republic is September 2.
The new 'deep-dive' trailer shows off some of Riders Republic's multiplayer mechanics. In place of Destiny's Tower, you've got the Riders Ridge, a social space and hub area for hopping off into any of Riders Republic's several modes. There's a 6v6 Tricks Battle, which sees two teams competing to nail tricks on grind rails and ramps, changing their colour and adding to their scores. Complete all the tricks in one area and your team will capture that 'district,' which adds a big multiplier to your scores.
There are also intense downhill BMX time trials, which are seen in first-person in the new trailer. A rider scorches down a narrow mountain trail at alarming speeds, winding through the redwood sequoia trees and over the rocks and streams that cross the steep pathway. It's an intense sequence, and it gives Ubisoft a chance to flex some of its environmental design muscle.
The trailer presents a string of activities in rapid-fire succession: there's a Tony Hawk-style snowboarding trick park set around an elementary school in a 'city module,' wingsuit races and paragliding through massive natural stone monuments, and mountain bike races through the streams in the canyons below. And it all seems to be happening at once, together, in one shared world instance.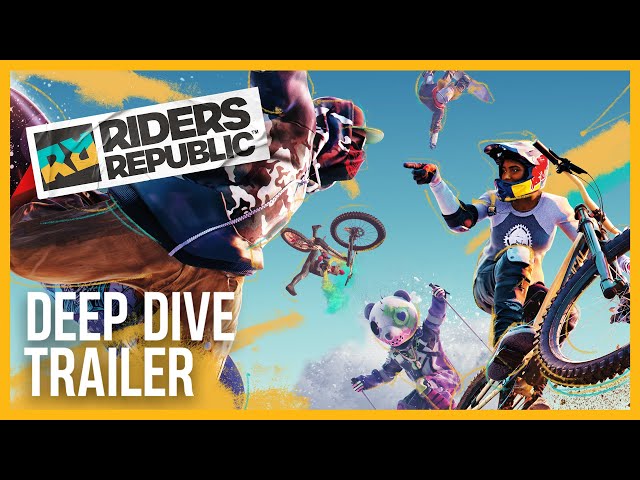 All of Riders Republic's locations are American national parks, and the trailer shows clips from Utah's Arches National Park, Sequoia National Park in California, and Yosemite Valley.
As noted above, Ubisoft has announced that the Riders Republic release date is set for September 2, and that you can register today for a chance to participate in the upcoming beta test sessions. You can do that by visiting the official website.
Ubisoft says that you'll "never feel alone" while playing Riders Republic. "Our game is a real community," the developers explain. "You and your friends can play any career event together in the versus mode."
Everything you do in Riders Republic is geared towards earning stars, which are used to unlock additional content in the form of new events, locations, and gear to outfit your character with.
It's clearly an ambitious game, and another shot at creating the X Games-style social multiplayer experience we first got a sense of in 2016's Steep. We'll find out more about Rider's Republic in the months to come.
{"schema":{"page":{"content":{"headline":"Riders Republic looks like BMX Destiny, and it's coming in September","type":"news","category":"riders-republic"},"user":{"loginstatus":false},"game":{"publisher":"","genre":null,"title":"Riders Republic","genres":null}}}}