Looking for the Final Fantasy XIV Endwalker release date? Endwalker is the fourth expansion to the game in eight years of its realm being reborn from that disastrous first outing – and what a difference that time makes. It's now easily one of the best MMOs on PC and for good reason.
Thanks to a weekend of reveals, we now know more about this latest expansion. It promises to be even more epic than the rest, as the post from Square Enix bills it as the climax of the story that started back when A Realm Reborn was first released. Other new features include two new jobs to master, a new playable race, several new locations and dungeons to explore, and an update to the level cap.
It's time to take up your arms and prepare for a grand new challenge – join us as we take you through everything you need to know about Final Fantasy XIV Endwalker, including the Endwalker release date, what we know about the sage and reaper jobs, and every other new feature coming to the latest expansion.
Final Fantasy XIV Endwalker release date
Final Fantasy XIV Endwalker will be released November 23, 2021. During the Final Fantasy XIV digital fan festival streams, Naoki Yoshida confirmed when fans can play the latest expansion.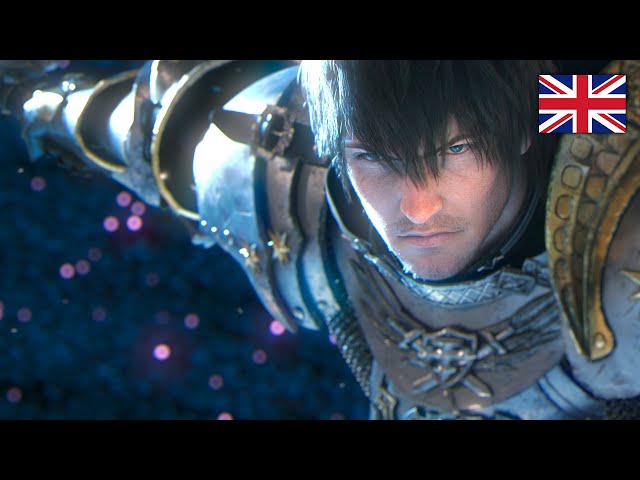 Final Fantasy XIV Endwalker story
This expansion features the climax of the Hydaelyn and Zodiark story, with your heroes facing off against "an even greater calamity than ever before – a second advent of the Final Days". The trailer has various characters realise that peace was all but fleeting, seemingly prepared to fight whatever is coming from the stars.
Essentially, Endwalker will be the end of everything that's happened in the game since the game's beginning. So now's probably the time to catch yourself up on the happenings in the story, so you know in time for Endwalker's release what has occurred leading up to this new expansion.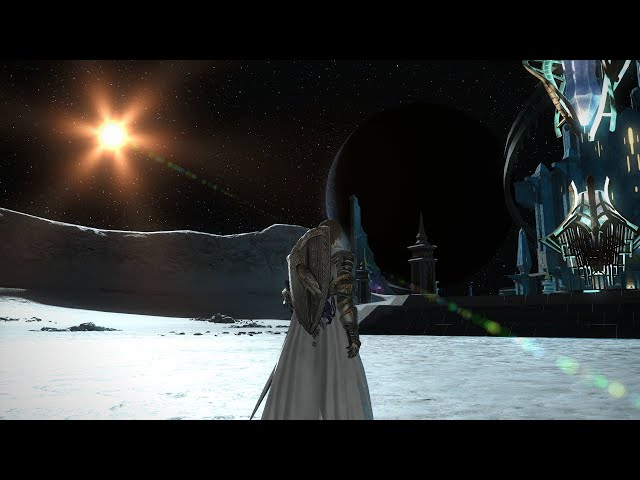 Final Fantasy XIV Endwalker locations
Two areas were revealed during the Final Fantasy XIV fan festival. The first is 'Mare Lamentorum', a barren lunar landscape with the only sign of sentient life being a single observatory towering over the landscape. This tower is like a futuristic Hogwarts, with its grand hall, huge staircases, and tons of clock-like ornaments hanging in place.
Outside of the tower, there's a bunch of structures imbedded into the moon's surface like a puncture wound, nests for some kind of moon bugs, and sub-lunar caverns filled with crystals and glowing rivers.
It's not shown if anyone lives there of it's just abandoned or not, but we suspect that one of the new tribes might live on the moon. Loporrits are small bipedal rabbit folk based on the Hummingway race from the Final Fantasy IV sub-series, which appear in the various lunar locations across all three games. The Loporrits' design is based on the Hummingway redesign from the Nintendo DS version of Final Fantasy IV.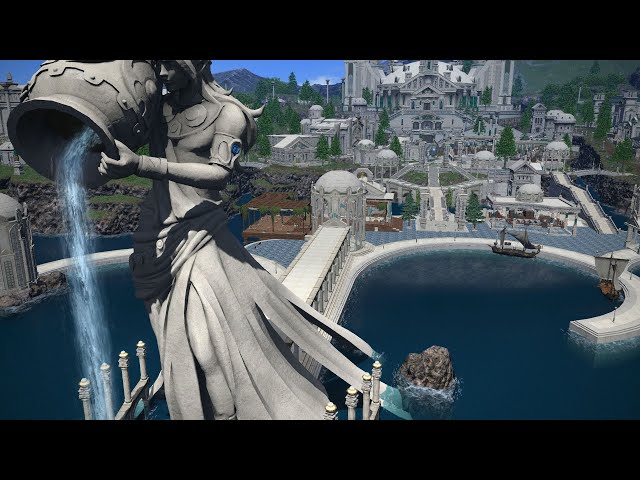 A new town was also shown off during the fan festival. 'Old Sharlayan' has an Athenian vibe to it, as it's a hilly town of learning, stone statues, and a grand library that's visible no matter where you are in the town. Stone pillars surround a magical set of rotating beacons, and its docks give it access to vital trading routes.
Inside the library, there's floor upon floor packed full of books, all while dimly lit lights hang from the impossibly tall ceiling. The main story trailer gives us a glimpse of some kind of forbidden section where the rarest of tomes are kept, as well as council of folk intent on just existing while the end times draw near.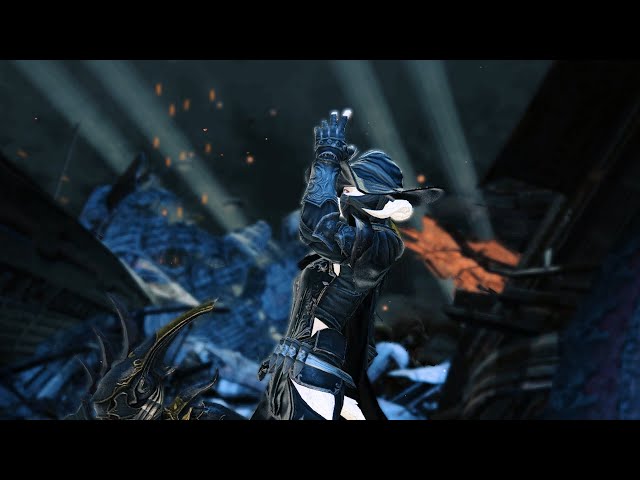 Final Fantasy XIV Endwalker Reaper job
Endwalker doesn't just give us new places to explore, but also new jobs to master. The latest job revealed is the Reaper, a melee DPS job that's clad in black garb that's straight out of something like Bloodborne, who summons spectral creatures to aid them in combat by attacking enemies or channelling their power in some kind of rage mode. They also wield two-handed scythes, slashing with ethereal looking effects that become rather savage when combined with their familiar.
While the Reaper in itself is a brand new job, the scythe it uses was the primary weapon of the Dark Knight job in Final Fantasy XI (though other classes could use it too), and Sice from Final Fantasy Type-0 uses one as her weapon of choice. The Reaper will be available from level 70, so you'll need to get another class to that level before you can use them.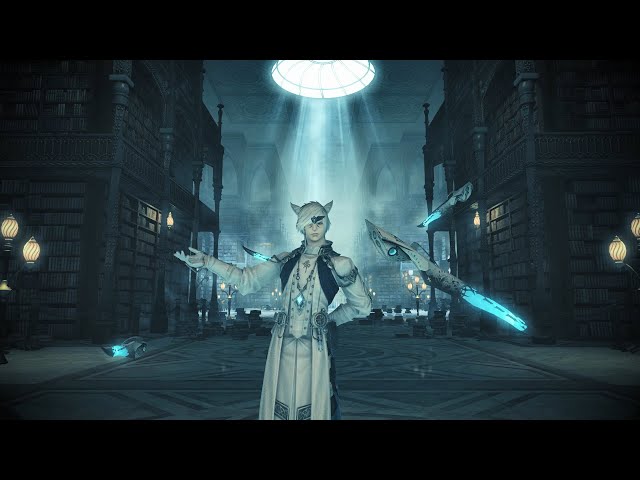 Final Fantasy XIV Endwalker Sage job
The sage is a new healer job class that uses floating daggers to aid teammates by healing their health or buffing their attacks. This is quite the departure from both instances in Final Fantasy III, where it's basically a red mage with ultra-powerful white and black magic, and the Final Fantasy Tactics handheld games where they inflict status ailments.
From what we've seen so far, sages don't seem quite as versatile as the white mage, since it doesn't have access to the AoE stun that comes with Holy. That said, compared to the rest of the healers, it might have a chance at being better than the Scholar, and will almost certainly be better than the Astrologian.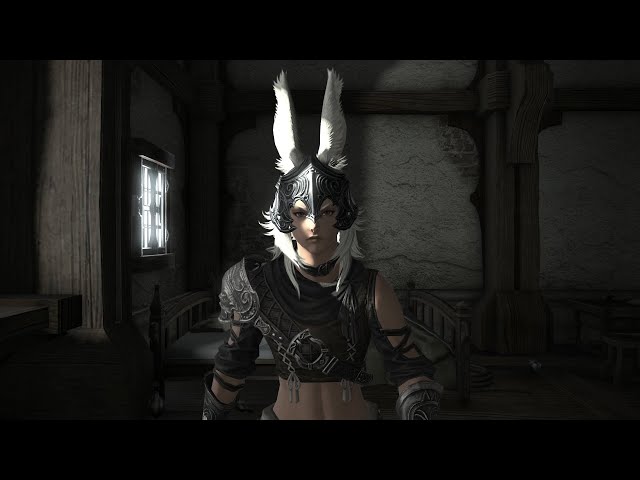 Final Fantasy XIV Male Viera
Endwalker also brings us a new playable race: the male Viera. These humanoids with massive hare ears have mostly been represented by the female Viera who first appeared in the Shadowbringers expansion. However, it has always been said that males of the species do exist and they will soon become playable in Final Fantasy XIV.
Announcing Myths of the Realm, an #FFXIV original alliance raid coming to #Endwalker!

This new raid focuses on the Twelve, who have until now been shrouded in mystery…#FFXIVFanFest pic.twitter.com/hBol6Mk7Ol

— FINAL FANTASY XIV (@FF_XIV_EN) May 15, 2021
Final Fantasy XIV Endwalker myths of the Realm
Announced in the above tweet, 'Myths of the Realm' is a new alliance raid that will appear in Endwalker. The only hint that we have so far is that it focuses on "The Twelve, who have until now been shrouded in mystery".  For those out of the loop, The Twelve are the Eorzean pantheon who attempted to seal away Bahamut in the original Final Fantasy XIV. Your character aligns with one of The Twelve when you create a character. It's currently unknown if your alignment has any impact on the upcoming alliance raid.
Final Fantasy XIV Endwalker features
Here are some of the other features coming to the Final Fantasy XIV Endwalker expansion:
A second new town will be added: Radz-at-han
More new areas, including Labyrinthos, Garlemald, and Thavnair
Multiple new dungeons will be added, which may include encounters with new threats like Anima and the Magus Sisters
An expanded version of the Trust system will be added, bringing more NPCs into dungeons, including Estinien Wyrmblood
The level cap is going to be increased to level 90
A new Alliance Raid will be added
A High-Difficulty Raid called 'Pandæmonium' will be added
You can buy a house in Ishgard
A second new new tribe called the 'Arkasodara' will be added. They're basically bipedal pachyderms (mostly like elephants)
New gear and craftable items will be added
Expanded armory chest capacity
New features coming to the Gold Saucer
A new Data Center Travel system
And that's everything we know so far about Final Fantasy XIV Endwalker. We'll keep you updated as soon as we learn more about the new features coming to the game as news trickles in from now until the Endwalker release date in November.
{"schema":{"page":{"content":{"headline":"Final Fantasy XIV Endwalker release date: new jobs, races, and raids","type":"guide","category":"final-fantasy-xiv-a-realm-reborn"},"user":{"loginstatus":false},"game":{"publisher":"Square Enix","genre":"MMO","title":"Final Fantasy XIV: A Realm Reborn","genres":["MMO","RPG"]}}}}